Custom
Gold Jewelry
Custom Jewelry Design in Gold and Precious Metals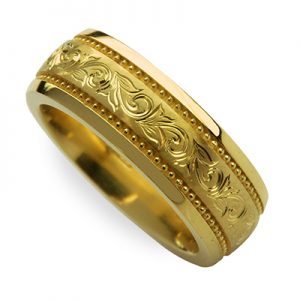 When designing in gold and precious metals there are many different variables which come into play. First of all what will be the choice of metal or metals in your ring or other custom gold jewelry?
At Oceanside Jewelers, we manufacture custom designed rings and other jewelry from all colors and karats of gold, as well as platinum, silver, and occasionally other precious metals such as palladium. Just a few of the choices you have in gold are: white gold, yellow gold, pink or rose gold and green gold, which are available in karats ranging from 10 karat, 14 karat, and 18 karat, and 20 karat, or 22 karat and 24 karat which are always a rich warm yellow. The range of colors and qualities of metals that we work with when designing custom jewelry allows us to be very flexible in the design elements and price point of your finished piece.
Designing in gold and precious metals always starts with a hand-drawn sketch. Even if we are working from a photograph, there is usually something we can do to improve the design or customize it for you and your style that will make it a unique piece of custom designed jewelry.
The next step when creating gold jewelry is to determine whether the piece will be fabricated from milled or cast metal, and if it is cast, what type of modeling technique we will use: a hand-carved wax model or a computer produced model using CAD (Computer Aided Design).
Hand Crafted Jewelry Construction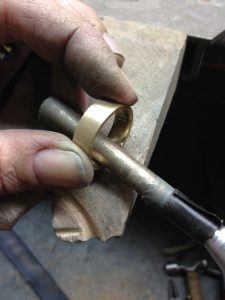 Making hand fabricated rings or other jewelry is analogous to building a house; the elements are cut or molded to size and assembled first, and then the finishing touches are put on to make it come to life. Hand fabricated rings made from milled elements start out from a rod or sheet of metal that is drawn through steel rollers and plates that make it thinner and longer, until it is the desired size. The pieces are then cut to shape and size with portions being wound around a steel die that is the final size of the ring. Depending on the complexity of the ring, there may be several milled pieces that are fit together to allow for the design elements you want and the placement of gemstones.
Hand fabricated rings made from cast elements are made using the lost wax method, where a model is made either from hand-carved wax or a computer generated model. Occasionally small components will require a metal model later molded for use in the design. All hand-carved wax and metal models along with the mixing of alloys and casting are done on-site at Oceanside Jewelers by Master Jewelry Designer Chad Elliott.
the complexity of your custom gold jewelry will determin whether a hand-carved wax model or a CAD design for your model is more appropriate. Gold jewelry that has very elaborate bridgework, or designs that need extremely precise balance on each side and are very symmetrical, might be more appropriate for a CAD model. If there are a lot of elaborate gemstone settings, it could be more cost effective to model in CAD than to hand-drill and bead each setting. If you use a CAD design, the output from the computer will be either milled from a latex wax or "built" using a special 3-D printer with special polymers.
Once the model is finished, it is set into a container that is filled with plaster. When the plaster hardens, the whole thing is heated overnight so the wax melts and drains out, leaving a plaster mold of your ring. The plaster mold is then attached to a centrifuge which spins the molten gold or other precious metal into the cavity to create the cast ring. Using a centrifuge instead of simply pouring in the liquid gold hardens the metal and reduces porosity. It creates a very durable, high-quality polish and finish to the custom jewelry.
Fine Gold Jewelry Finishing
The final steps in making your engagement ring, wedding ring or other custom designed jewelry is to finish it with any laser assembly and complete any detail work with hand engraving techniques, including antique hand tooling, micro engraving patterns, scroll designs, wheat patterns, feathering, French mill graining, beadwork, burnished set, bezel set diamonds, or micro pave patterns. All laser assembly, hand engraving work, diamond setting and stone setting is done under a microscope by Master Jewelry Designer Chad Elliott, a service that very few jewelers do anymore.
Once all the hand engraving work is done, your custom designed ring or wedding ring or wedding band are ready to be sanded, polished, and set with gemstones, which is all done under a microscope in-house at Oceanside Jewelers. The last step is for you to take your custom designed jewelry home to enjoy for years to come!

Review
By Brandon G. on 11-04-2011
On Yelp
"Chad custom made a wedding band to match my wife's engagement ring. It turned out fantastic, and she loves it. He was knowledgeable and willing to provide information about an area that we had little experience in. The other thing I really liked about him was that he was not a pushy salesman like you find at a lot of the other stores down in Old Town and Downtown San Diego. Oceanside Jewelers is a gem in Oceanside."