Stuller Red
Box Diamonds
Introducing Red Box Diamonds!
Find the Perfect Stone with Confidence and Ease!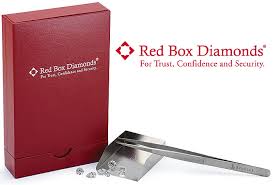 In addition to our own diamond inventory, Oceanside Jewelers is proud to announce its membership in Stuller's Red Box Diamond Program. Stuller, the largest and one of the most reputable jewelry suppliers in the world, offers its extensive diamond inventory through the Red Box Diamond Program. With a Red Box Diamond, you'll be able to select a carefully graded stone to your exact specifications and view it unmounted before you purchase. Features of the Red Box Diamond Program include:
-Accurate Grading: All Red Box Diamonds come with a grading certificate from an independent gemological laboratory, or from Stuller's team of GIA and AGS certified graders. Stuller grades all stones to GIA standards, which is widely regarded as the strongest grading standards.
-Laser Inscribed Identification number: All Red Box Diamonds come with a unique laser-inscribed number, ensuring the identity of your stone throughout its lifetime. Personalized engraving is also available on Red Box Diamonds.
-Conflict Free: All Red Box Diamonds are certified conflict-free through the Kimberly Process, and shipped from the source in secure, tamper-proof packaging.
-Trade Up Program: Trade in your original-condition Red Box Diamond at any time and receive its full retail value towards a larger or more valuable upgraded stone!
-Insurance: 1 year free GemShield protection from loss, theft, or damage.
-Next day Shipping on orders placed before 5pm: Your stone will arrive the next business day, and will remain in store for 5 days for your viewing.