Ja Lolla
Wholesale Diamonds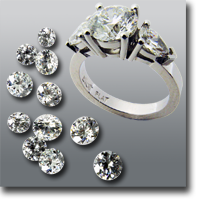 Oceanside Jewelers offers a wide variety of trade services to the La Jolla, Carmel Valley, and North County area, including wholesale diamonds. Oceanside Jewelers offers top dollar for loose diamonds, diamond rings, engagement rings, diamond ring settings, small diamond melee, as well as any other type of diamond jewelry. We have over 25 years experience buying and selling diamonds as well as a certified GIA gemologist on staff to make sure you get the best possible offer on your fine jewelry and diamonds. We always offer a free, no obligation quote on your diamonds and diamond jewelry while you wait, and we pay a premium for EGL (European Gem Labs) and GIA (Gemological Institute of America)certified diamonds. We also carry thousands of loose diamonds in stock, in a wide variety of sizes, cuts, clarities, and colors to match your budget and specifications. If we don't carry what you're looking for in stock, we'll able to source any diamond you need, usually within 48 hours. Next time you're looking for wholesale diamond brokers in the greater San Diego area, give Oceanside Jewelers a call!
For further information check out our cash for diamonds page here.
Other services offered in the La Jolla area:
We offer complete and accurate appraisals and assessments on jewelry, ensuring you get the best possible valuation for insurance or estate purposes.
We offer highly competitive cash payouts for gold, silver, platinum, diamonds, and fine watches, and offer a free no-obligation estimate on your valuables!
We provide a complete line of Jewelry production and trade services, including repairs, design and modeling, and manufacturing in a wide variety of styles and materials.
Review
By Courtney Holst
On Google+
"Chad Elliot made a beautiful custom jewelry necklace for me onsite in his Oceanside store. He does design and manufacturing in the store, and he was kind enough to show me his workbench and laser (a lot of technology goes into jewelry nowadays!). The necklace was much more affordable than it would've been at the mall. I like supporting independent affordable jewelry stores locally! Chad is a talented Oceanside jeweler. We are lucky to have him.">