Custom Jewelry Design
Rancho Santa Fe
Custom Jewelry Design Rancho Santa Fe, Poway and Fallbrook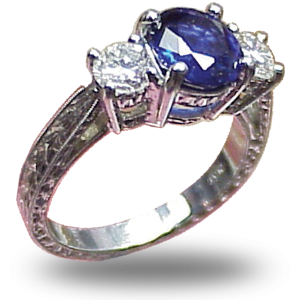 In the globalized, industrialized world that we live in today, we are removed from the objects we use everyday. Whether its the cars we drive, the electronics we communicate with, the clothes we wear, or even the food we eat, we hardly have any idea who makes these things and where they come come from.
Specialization and division of labour, along with sheer geographic distance puts many layers of separation between us and everything you buy. Fine jewelry is no exception. Almost any retail chain rely upon manufacturing operations that involve hundreds of workers churning out thousands of identical pieces in a factory on the other side of the world. Design, casting, stone setting, polishing, shipping and finally sales, there are dozens of people that your jewelry passes through, and chances are none of which know much about jewelry beyond their specialization.
It is rare that any piece of jewelry is made from start to finish by the same pair of hands, yet this is how every piece gets made at Oceanside Jewelers. From the first sketches on our countertop to final polishing, owner Chad Elliott personally handles every aspect of his jewelry design personally. This apparent in the look and feel of the pieces, as well as the quality of the craftsmanship.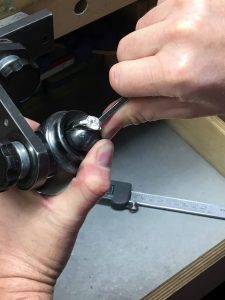 An engagment ring or a piece of fine jewelry is a unique purchase in one's life, so why go about it the same way as any other trip to the mall? This has always been our philosophy at Oceanside Jewelers. While we can't compete with the advertising and sales tactics of big box stores, we do stand by our work as jewelers, garunteeing that you get the best possible piece from our hands to yours.
If you're thinking about having a special piece of jewelry made, stop in and speak with master jeweler Chad Elliott, and allow us to show you why Oceanside Jewelers is a much greater value than your average jewelry store.
https://oceanside-jewelers.com/custom-design-gold

Review

Oceanside Jewelers
By Natalie W.
On

"I'm a web and graphic designer, and I should have realized before my poor fiancé' proposed that I have very, very specific taste. Finally, after a long internal struggle, he convinced me to go out and get the ring of my dreams. So I looked and I looked, but nothing was perfect. Then I walked into Oceanside Jewelers 5 weeks before my wedding, and I met Chad. I thought designing a completely custom ring was impossible in the time-frame we had to work with, but Chad made it happen! He took all of my pictures and drawings and gave me exactly what I asked for at a totally reasonable price. I picked up the finished ring the DAY before my wedding, and I've never been happier with a piece of jewelry. Well- except one thing. I had told him to make it too small! A previous jeweler I had been trying to find a ring with had told me over and over that I was a 4.75. My finger might be, but my knuckle definitely is not. I brought the ring back to Chad a month later and he resized it for free! If you want custom jewelry, Chad is the man."