Wholesale
Jewelry Manufacturing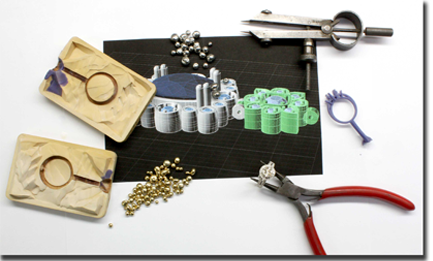 Oceanside Jewelers offers a variety of services in wholesale jewelry manufacturing, production, design, and materials wholesaling. We offer start-to-finish in-house jewelry manufacturing, from concept and design, to modeling and prototyping, through to production and finishing. We work directly with our clients individually to develop the most efficient way to produce their jewelry line and products based on materials, number of units and production size, production schedules and most importantly, the desired price point. We also offer production support services, including prototype models, casting services, stone-setting, assembling and finishing. Individual single run design and model services are also available, either in hand-carved models, or through CAD rapid prototyping. In addition, we can model duplicates of original pieces or create replica runs both of antique jewelry items and period jewelry pieces. We are able to work with a variety of materials, including silver, platinum, palladium, and yellow, white, green and rose gold in 10kt, 14kt, and 18kt as well as high-carat gold including 20kt and 22kt. We can source any metals or gemstones needed for a project, or work with materials provided to us.
We also provide complete in-house wholesale services to the trade including jewelry repair, adjustment and resizing. We offer prompt ring sizing, diamond setting, diamond replacement, bracelet and necklace adjustment and repair, jewelry refinishing, engraving and electroplating.
Wholesale Jewelry Manufacturing in Oceanside
 Oceanside Jewelers does all production work in house, overseen by owner and master jeweler Chad Elliott, who has over 20 years of experience in the industry. He has worked extensively in both designer and manufacturing capacities, as well as film and television jewelry production design, and all in a wide variety of styles. Our focus in production and design is to provide customized services in order to deliver a product with the best possible combination of economy, efficiency, and value.   Decades of industry experience buying, selling, and manufacturing jewelry has allowed Oceanside Jewelers to become a highly competitive buyer to the trade offering diamond liquidation services, including wholesale buying and selling of diamonds, precious metals, and gemstones.  
Review
By L.L. on 11-05-2015
On Yelp
"It's always a good feeling to see OUR jewelry on Chad's website! We are so happy with the quality of his work, which is unsurpassed by any other jeweler we know!"