Custom
Wedding Rings
Wedding Rings Through the Ages

Wedding rings are the oldest and most widely appropriated visual symbol of marital status throughout human culture, with traditions of the wedding band exchange dating back to Ancient Egypt 6,000 years ago. The rings themselves have taken many different designs, materials, and incorporated a multitude of different gemstones. In Europe they took the form of Claddagh rings and Gimmel rings, sometimes consiting of two interlocking wedding bands that the bride wears together after the wedding. In the Middle East similar "puzzle rings" were created using many interlocking bands that hold together when worn on the finger, and would fall apart if taken off. In 1477, the first diamond engagement ring was presented by Archduke Maximillian of Austria, not to his bride, but to her father as a token of their two mondarchies uniting. This however is the origin of our modern notion of a wedding ring, a gold band with a diamond set on top, symbolizing the strength and purity of everlasting marriage. Perhaps the most quintessential design today is the solitaire setting, perfected by Tiffany and Co. in 1886, which features a single large diamond set in a claw style mouting with 4 or six prongs holding the stone in place, and allowing the stone to reflect the maximum amount of light.
At Oceanside Jewelers, we have a full service jewelry workshop, operated by owner and master jeweler Chad Elliott, incorporating the rich history and hand craftsmanship of jewelry making alongside modern computer design and fabrication techniques. As a custom jeweler, we're able to cast in-house wedding rings and mens wedding bands in any precious metal; 14k, 18k, 22k, gold in white yellow or rose, sterling silver, and platinum. We also carry an inventory of thousands of loose diamonds and colored gemstones, and are also able to incorporate your heirloom stones into the design of your wedding ring.
Custom Design Ladies Wedding Rings and Mens Wedding Bands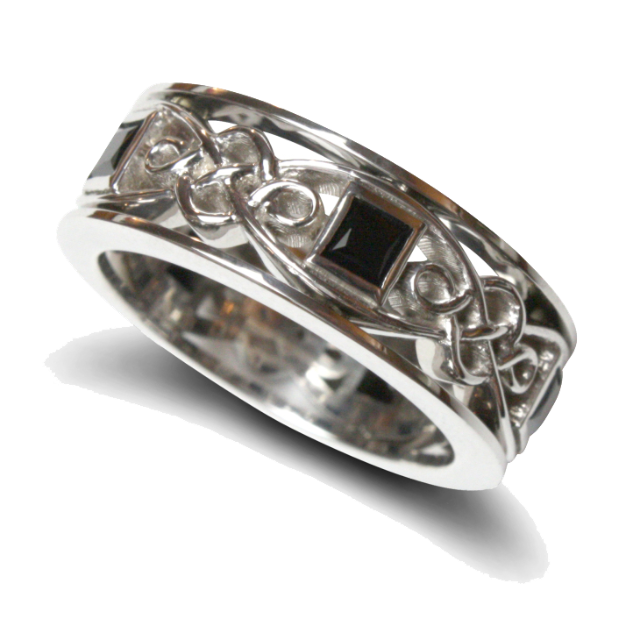 In addition to custom design, we also carry a variety of new and pre-owned wedding ring styles in stock as well as mens wedding bands. For those looking for the simplest design, we carry plain wedding bands in silver, gold, and platinum, and offer engraved lettering on the inside. In addition we carry a full line of bands from Benchmark, who produces rings in "contemporary metals" such as Tungsten and Titanium, popular in men's wedding bands for their durability and understated dark metallic hues. In ladies wedding rings we carry a wide variety of styles in white and yellow gold and diamond, from simple modern solitaires to ornate vintage halos, engraved and patterned bands, or diamond eternity bands.
No matter what style or budget, we'll find you a wedding ring that is just as uniqe and well fit as the one you love! Stop by during our store hours Tuesday – Saturday 11AM-7PM or feel free to give us a call at (760) 722-4950.
Please also have a look at our Design Portfolio featuring custom Ladies Wedding Rings and Mens Wedding Bands.