What is
a Jeweler?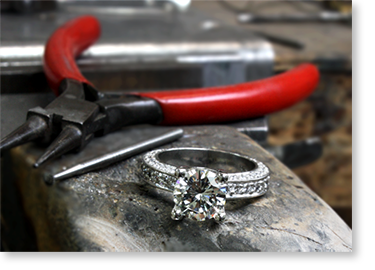 There are a lot of terms used to describe the modern-day fine jewelry professional, whether it be a bench-jeweler, jewelry manufacturer, stone-setter, goldsmith, or silversmith. In the more traditional sense, these terms signified narrower, more distinct specializations within the jewelry arts. Currently, the term bench-jeweler refers to a professional jeweler who cultivates a wide variety of skills and abilities in order to adapt to the needs of the modern jewelry industry. This is primarily a distinction from a production jeweler, who fabricates and assembles pieces in a manufacturing type setting.
There are a wide variety of skill levels and abilities among bench jewelers. Typically, a basic, entry level jeweler, sometimes referred to as a jewelry technician, is able to make simple repairs, assemble prefabricated pieces, and do basic finishing and polishing. A true master jeweler, however, is able to conduct all steps involved in jewelry making, from design, mold-making, fabrication, stone setting, and finishing. A master jeweler should also be able to comfortably work with a variety of materials, from 10kt, 14kt, and 18kt gold, silver, platinum, and palladium, as well be able to set diamonds, sapphires, opals, or any other type of gemstone. It is also common for a modern jeweler to have wide variety of specialty skills such as enameling, casting, brazing, electroplating, and pave beading. A master jeweler should also be familiar with traditional and contemporary techniques, from hand engraving to computer design and laser welding. In essence, a modern jeweler is a versatile craftsman who combines traditional artisanship with cutting-edge technology to meet the wide range of demands in jewelry market today.
At Oceanside Jewelers we are extremely knowledgeable about our products because we make as well as sell jewelry, which cannot be said of many jewelry stores. Owner and master jeweler Chad Elliott has produced a great variety of jewelry throughout his career, from engagement rings, diamond necklaces, diamond earrings, colored stones and all other types of fine jewelry in a wide variety of styles and materials.

Review

Oceanside Jewelers
By Md C.
On

"This is my second review for Oceanside Jewelers. Once again, I can't say enough good things about their expertise and the care they take in fixing jewelry. This time, I brought my Tag Heuer watch with a broken stainless steel band. I love this watch and I was really disappointed after the band broke (after many years of constant wear). He custom made pins and fixed it. I'm confident the repair will last. I've taken about 8 pieces of my wife's broken jewelry to this place and they do amazing work. They repaired my wife's gold rope chain that had been pulled apart. I do not exaggerate when I say that you cannot see where the break occurred after their repair. Its absolutely amazing what these folks can do. They have the equipment, expertise and experience to do it right. I think even if we end up moving away and need jewelry repair, I'll probably send it to them."