Sell
Diamonds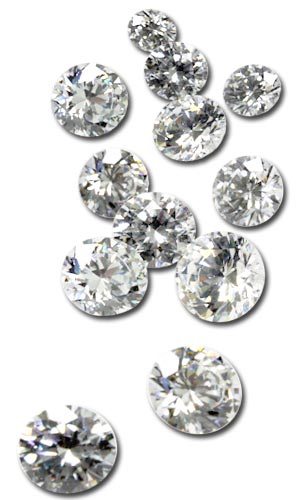 When selling diamonds for cash at Oceanside Jewelers, you can expect the process to be just as quick and professional as when you sell gold for cash or any other precious metal. Whether you are selling a solitaire diamond for cash or just a few small diamonds, Oceanside Jewelers will always treat you fairly. Factors that affect the price are the size, color, clarity and cut.
When you bring in jewelry to get cash, the gemstones will first be cleaned and inspected by a GIA (Gemological Institute of America) Graduate Gemologist. The gemologist will then grade the diamonds based on the weight, color, clarity and the cut of each stone.
Price Value Basis of Diamonds
The price of is based on the Rappaport Diamond Index, which is the industry standard. The weight of the gemstone is important in this calculation, but isn't the only factor when assessing the price in cash. The cut and proportion of the diamond is just as important as the other factors, if not more so. For example, a 1 carat diamond should ideally have certain measurements, and if the measurements don't match the weight, that means the gem is cut too deep or too shallow and may not bring the highest price.
The highest price in value for gems is given for certified diamonds, with the highest premium for GIA (Gemological Institute of America) or EGL (European Gemological Laboratory) certified diamonds. Diamonds without certificates or with lesser certificates will bring a lower price.
We Pay Cash For Diamonds Of All Sizes
Oceanside Jewelers will pay cash for gemstones that many other stores will not buy. This includes cash for older antique diamonds, small diamonds, damaged and chipped diamonds, and low quality diamonds. Many stores will not buy these, but since we are a full-service jeweler we have uses for all kinds of gems and will pay cash for diamonds of all sizes.
When you sell diamonds for cash the process is conducted while you wait in a comfortable and secure environment. Whether you are selling a solitaire diamond for cash or a large number of small diamonds you can feel confident that you are getting the most accurate assessment of your jewelry. Our aim is always to offer the best price to our customers who are selling diamonds for cash and to make it a pleasant experience as well. Let a GIA Graduate Gemologist evaluate your diamond jewelry and be confident that you will be treated fairly when you sell your jewelry.
Review
By Suzzette W. on 05-18-2012
On Yelp
"I have been to at least five different Gold Buyers to sell my Fathers Diamond ring that he left for me in his will. The place I work at went out of business, even lost my last check. Needed to sell my fathers ring and I went to one store that advertises on tv and they offered $450.00 ,,The other store offered $500.00,, and two others offered $550.00 ..I knew the ring was worth more then that because my father had it appraised by GIA (Gemologist) 10 years ago! For $2,000 .. A friend told me about this store that gave her a lot more then she was offered by other Gold buyers. Oceanside Jewelers was the name , walked in there and they offered me $950.00 and they treated me so nice."