Sell
Silver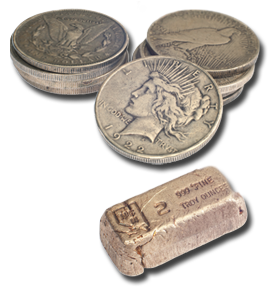 When you come to sell silver for cash at Oceanside Jewelers, you can expect that the process will be quick, professional and efficient, and that you will get the best price in cash for silver in the area. Factors that affect what price you get for selling silver are the purity of the silver you bring in, its weight, and what form your silver is in.
Silver Testing and Weight
When you sell silver jewelry for cash or silver flatware for cash, we will first do an acid test to determine the purity of the silver, and then weigh it. Based on these measurements we can then give you a quote based on market prices, which are updated every 20 minutes. Weekend purchases are based on Friday's closing.
Receive A 90% Cash Value Of Your Silver
Depending on the quality and purity of the silver, Oceanside Jewelers can pay up to 90 percent of the value of the recoverable metal. Pawnshops, pawn brokers and some other jewelry buyers will pay very little or not buy silver at all. The highest price in cash for silver is given for silver coins, silver bullion or flatware, whereas selling silver jewelry will bring in a little less. For large quantities of investment quality coins or bullion, Oceanside Jewelers can broker the metal for you for a negotiated brokerage fee.
Types Of Silver Purchased
In addition to paying cash for silver jewelry, silver coins and silver bullion, Oceanside Jewelers will also pay cash for silver flatware pieces, sterling silver serving utensils, platters, and watches, which most stores will not buy. No matter what form your silver is in, we can almost always buy it and give you cash on the spot. We do not buy silver plate however, but we do buy all other forms of scrap silver and silver art objects. Oceanside Jewelers also pays cash for gold, cash for platinum and unlike many other buyers we pay cash for the small diamonds within the items you sell.
Oceanside Jewelers – A Reputation You Can Trust
Oceanside Jewelers is a family owned and operated business that values our reputation and like other family owned jewelry stores pays higher prices than the here-today-and-gone-tomorrow jewelry buyers. Oceanside Jewelers pays more cash for silver than mail-in buyers, pawnshops and pawn brokers, traveling hotel buyers and gold parties. Bring your silver jewelry for cash to Oceanside Jewelers and let a Master Jeweler evaluate your silver and give you the best price in cash for silver in the area.