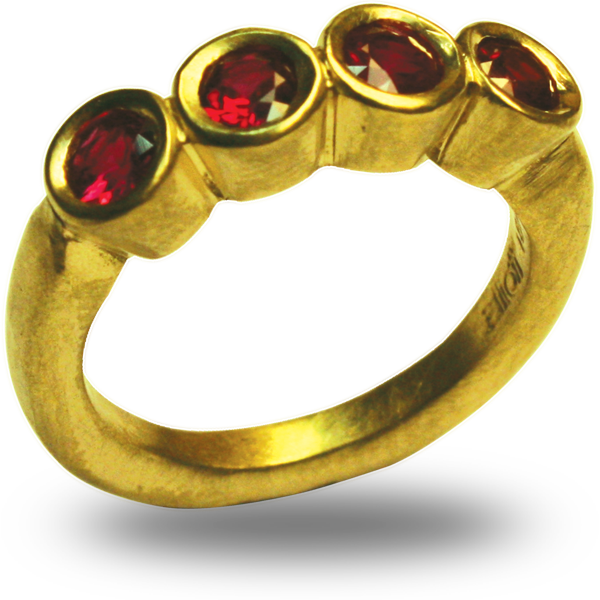 A Custom made 18k Gold and Ruby band reflects the rustic handcrafted aesthetic of traditional goldsmiths.
   Precious metals have been valued across human cultures since the beginnings of civilization. The tradition of working precious materials like gold and silver into jewelry, decorative, and ritual objects, grew up alongside human civilization. Not only are gold and silver rare and beautiful – they are soft, malleable, easily cast-able, yet very durable. These metals offered early craftsmen the perfect medium to develop techniques of precise metalworking and fine artistry. Lost wax casting dates as far back as Ancient Egypt to the 3rd millennium BC, who used beeswax to cast raw gold jewelry. The process, with a few improvements in tools and technique, is essentially the same to this day.
Modern jewelry making follows much along the same lines. A master jeweler is one of the last true craftsmen, the value of his hand or mind cannot be replaced or reproduced by machine or computer, although these tools have been incorporated into his practice. A modern jeweler will know as much about 3d printing as French milgraining.
It is this passion for the traditions and future of the craft that we at Oceanside Jewelers incorporate into our everyday work.  Unlike many jewelry stores, we work in all varieties of precious metals; silver, platinum, and gold in all karats and colors. This is why customers from all over Carlsbad and North County seek out the expertise of owner and master jeweler Chad Elliott. Together with Matt, our full-time GIA graduate gemologist, we know just about everything there is to know about jewelry and jewelry making. And unlike most jewelry stores, we do all our design and fabrication in-house, from the first sketches to the final polishing.
If you're looking for a skilled jeweler you can trust to make your jewelry concept a reality, stop in at Oceanside Jewelers, and allow us to show all the ways we can make your dream piece a reality!
For more info, check out our custom gold page!