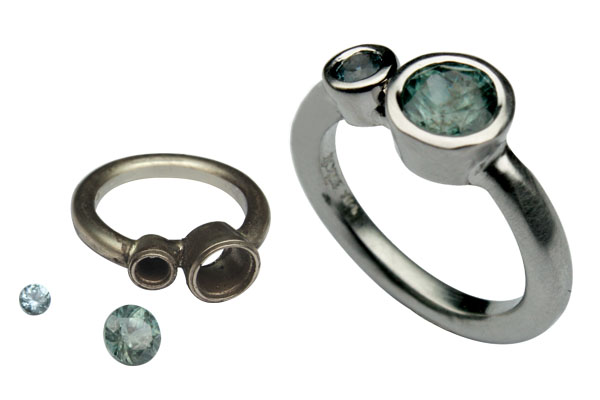 Wanted to showcase another beautiful project that just rolled out of the shop this week. This time, we had a client come in with two beautiful blue sapphiresthat she wanted to make into a ring. As she was looking for a sturdier, robust, and minimal design, Chad suggesting constructing a hand-built ring. Rather than going the usual route with lost wax casting, Chad constructed this ring by hand, extruding a piece of thick white gold wire and wrapping around into a circle to form a band. As opposed to casting, the extrusion packs the molecules densely, making a heavy and sturdy feeling ring. Instead of high polishing, our client opted for a rustic "Mediterranean" finish, complementing the design. Sometimes in jewelry its best to get back to basics, and this beautiful ring exemplifies the virtues of good ol'fashioned   handcrafted jewelry.
for more of our custom designs, check out our design portfolio!
for more info on colored stones, visit our precious gemstones page!