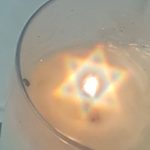 Last year, when Chad was interviewed for Stuller's Feature Friday Blog, he mentioned making a pendant that holds an optic lens made by renowned artist Yaacov Agam. Agam is an Isreal born artist who studied under Johannes Itten, a famous Bauhaus color-theorist. Agam's sculpture and prints play with optics and viewer perception, much like these lenses, which reveal different symbols when held up to a light source.
Oddly enough, someone who read that article happened to have one of these Agam lenses, which were never sold and only produced in small number as gifts for the likes of Elizabeth Taylor and Nancy Reagan. The owner contacted Chad, and all these years later, he's in possession of an original Agam lens!
As a pet project, Chad will be remaking a gold frame to hold the lens, just like the one one he made decades ago when he first met Agam. We're excited to see how it turns out!
for more of Chad's unique custom jewelry work, check out our online portfolio here!