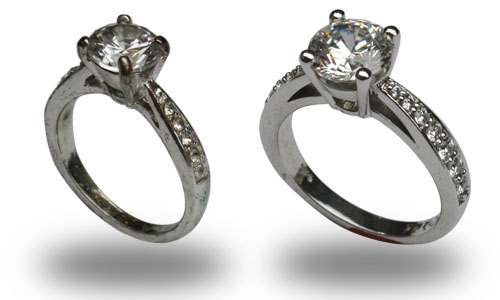 I'd like to introduce a new series on our blog, The Project Files, which highlights some of Chad's interesting custom projects and restorations and the stories behind them. Human beings have always used jewelry to tell stories. Often we use precious or symbolic materials to mark and commemorate the important moments in our lives; weddings, anniversaries, birth, travel, success. Jewelry is a narrative about who we are, where we come from, and where we're going, all of which informs the creative process of making jewelry.
This particular piece we made about a year ago. A couple came in who were engaged, and looking for a ring. However, she already had a favorite ring that she wore all the time. It was a plastic solitaire that he bought her from a gumball machine when they were first dating. On the occasion of their engagement, they decided that they wanted the same exact ring remade in gold and diamonds, and they came to Chad. So we made a computer model from the original, measured the "stones," and set about to making the ring. The result was a surprisingly modern and elegant ring, which also told the unique story of their love.
For more of Chad's custom work, check out our design portfolio!